10 Minutes Stretching Routine to Beat 9-5 Job Stiffness
Blog Post by *Ann Edwards of Elite Sports
In the world of technology, gluing to the screen is the new normal. More than 80% of the jobs in America fall in the corporate job category. With a corporate job you might end up earning a decent living but you will see the impact on your health soon. You need to run with the needles of the clock and you also need to sit at the same place every day. Most people start complaining about not having a window seat because they want a place with a view. Experts also say that companies offer big offices, better chairs, bigger tables and window space for senior employees only. However, your body doesn't understand if you are a junior employee or a senior. It all comes down to the way you treat your body.
According to the majority of the people, they are not satisfied with the work environment because they feel stiffness by the end of the way. Physical activity is important not because it helps with burning extra calories but also because it helps in keeping your muscles active. If you feel stuck and numb because of your laptop screen and a 9-5 job, here is a simple and easy stretching routine that you can follow to get rid of the mundane lifestyle.
10 Minutes Stretching Workout That You Can Do On Your Chair
When it comes to stretching most people think that you need a designated space and you will also need to sit down somewhere calm and since this is not possible in the office, you cannot workout or stretch. This is one of the major misconceptions. Simple day-to-day tasks that can help you stay physically active can help you improve your fitness. To help you get rid of muscle stiffness and numbness, here is a simple stretching workout that you can try.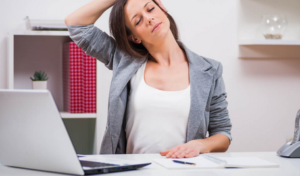 Start by fixing your posture. Sit straight and push your shoulder back till they start touching the back of the seat. Now, keep your feet close and try to touch the floor with the help of your feet. Make sure to spread the toes and let your feet feel the sole of your shoe.
Now extend your legs straight. Do not raise them too much or keep them low, keep in mind that you are extending your legs. Your goal is to open your knees as much as possible.
Now, move your legs to the right, then to the left. Repeat this at least three times.
Now, move your neck and bring your left ear to touch your left shoulder. Do not bend too much, just let your neck move as much as it can easily stretch. Now, do the same with your right ear and right shoulder.
Now try to move your neck clockwise and then anti-close wise. Do these exercises for at least one minute and then sit straight.
Now start with your thumbs and massage your knee for at least one minute. Once you feel the pressure let go.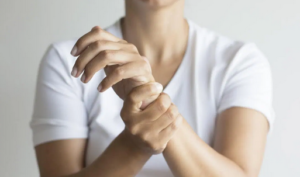 Now make a fist and start rotating your fist clockwise and then anti clockwise. You need to do this for at least one minute.
Now, finally, move your elbows up and down twice and end it by moving your shoulders clockwise and then anticlockwise like you are throwing a ball.
Finally, take a deep breath and hold it for at least 30 seconds before letting go. You can repeat this procedure at least three times.
Bottom Line
To sum it all up, it all comes down to the effort you are ready to put in. Most people think that exercises will impact their lifestyle and they need to work for multiple hours in the gym. However, this is not true. Multiple studies explain that just fifteen minutes of workout or 10 minutes of yoga will be enough for you to function properly. Apart from these simple changes in your lifestyle that can convince you to stay on your feet and live an active life is also very important.
*Ann Edwards is the fully qualified personal trainer from Elite sports. She has been helping people in the field of bodybuilding and fitness from more than a decade. Her career in nutrition and physical therapy
has made her a fine addition for our team.