More and more people are using their smartphones for navigation purposes these days instead of car GPS devices. OptimoRoute™ offers a simple way to plan delivery and service routes with multiple addresses and send them to your employees/co-workers via email in a format ready for navigation use with your favorite GPS navigation app. There are many free navigation apps that you can use like Google Maps, Apple Maps, Waze and Bing Maps. If you are in an area with poor data connection you might need apps that offer offline routing like Garmin StreetPilot, Navigon or TomTom.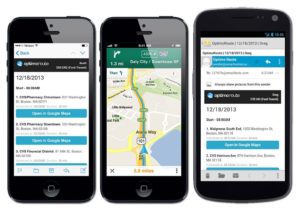 Each route contains a list of stops with the location name, address, estimated time of arrival at the location, time window (if set), any notes for the driver, and a link to start navigation using one of the installed navigation apps. Sent emails have a responsive design and will adjust to your smartphone, tablet or desktop computer.
It's much easier to use your smartphone as a navigation device if you mount it in a place where it's easily visible but not too distracting. There are many smartphone mounts available on Amazon or eBay that can be attached to the windshield. This lets you place the phone at the proper height so you can easily glance at the map on screen, but in a spot that won't interfere with your driving.
Active GPS and 4G connection during trips drains Smartphone batteries quickly so we recommend purchasing a car charger, especially for longer use.
This article originally appeared on optimoroute.com.